I don't know how to call this so I just call it by what it is - A WOODBLOCK-EYESCREW, or simply WOODBLOCK MICRO REGISTRATION GUIDE consisting of a small woodblock, 1-2 eyescrew(s) and 2 wood screws.
This is how it looks like the very time I used it.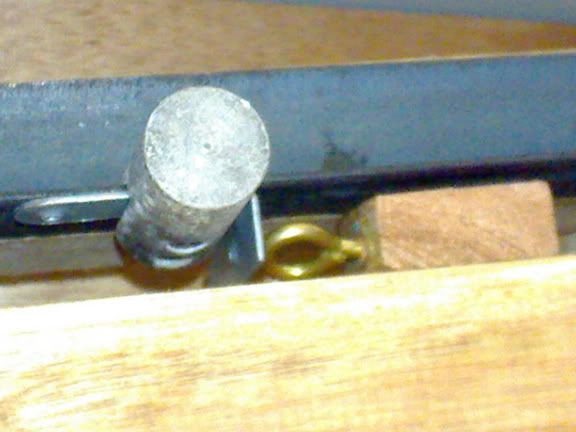 I first used it instead of the "T" guide or center guide attached to the frames of a printing method usually referred to of the long table system. Initially, I add a bended "L" bracket to the stopper so that the eyescrew can rest against it. I have since replaced it with 1" angular bars.
This is how the long table system works.
The blue "T" guide fixes the center or the horizontal (left-right) alignment of the frame. The 2 yellow eyescrews are used to adjust the horizontal (up-down) alignment.
My old 1"x2" frames are not very well made. Sometimes, when I do a reprint, the images won't align as it earlier did just weeks earlier. This renders the unadjustable "T'-type centering guide inaccurate. Replacing the "T' guide with this woodblock registration guide, I was able to effectively realign my frames.
MY FIRST PRESS
My first press is a swing-up type press using table clamps that looks like this.
My swing-up press has a removable modular platen making it a multiple color system. Although I have no problems with the modular platens, they are still easily removable with a simple upward pull (unlike other systems with fixed platens). The platens must be easily removable so changing from one shirt-loaded platen to another will be effortless and fast. I decided to use four of these table or jiffy clamps instead of 2, and use rubber fasteners to force each pair together to ensure that the clamping system is very stable and won't move.
With this mentality, my first encounter with the long table system has not been easy for me. The hand held frames are aligned with the angular bar of the long table press only on one side of the frame (the side farthest from the printer). Any slight downward or sideways movement in other directions, or any movement of the frame that is not directly upwards or towards the stopper on the press will move the frame throwing off its alignment. Since most people use the pull stroke, a downward movement of squeegee may also pull the frame downwards. Most printers use their pelvis or stomach to push against the frame to counter the pull stroke.
Anyway, to reduce possible accidental movement of the frame, instead of just 1 eyescrew I use 2 (see below).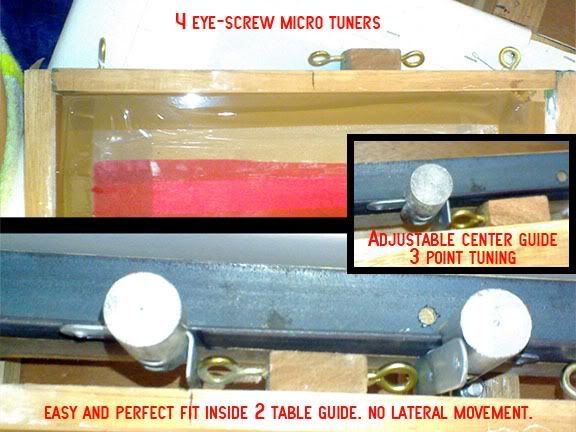 This fixed the left and right or vertical movement of the screen so that my only remaining problem is any accidental downward movement.
I also successfully used these woodblock micro registration system on the underside of the upper portion of the frame such that the eyescrews rest on the platen making the frame unmovable in all directions. Installing the frame is easy although lifting the frame, one needs to lift it by the upper portion where all the registration systems are located. This requires a little extra care. Even though the woodblock registration system is tight and strong enough, any upward pull that is not directly upwards but forceful enough, may affect or even damage the registration system. I am not using such system now so you just have to visualize it.
When I tried the micro tuners (or button micros) just to satisfy my personal curiosity, I also turned to these woodblock registration guide.
And once, on a discussion on rotary presses, I said frame alignment or registration is really easy. That I can build a rotary press made of bamboo and have a perfect registration system. I am not exaggerating. Just as long as the frame is level to the platen, even if it the print head is a little wiggly, just put these woodblock micro registration guide underneath the frames.
This woodblock micro registration guide is so simple and cheap yet effective and versatile. I'd bet they are more durable than plastic-based micro registraion systems. If you are using, and plans to continue using these woodblocks underneath your frames, these full metal button micros should be a good alternative.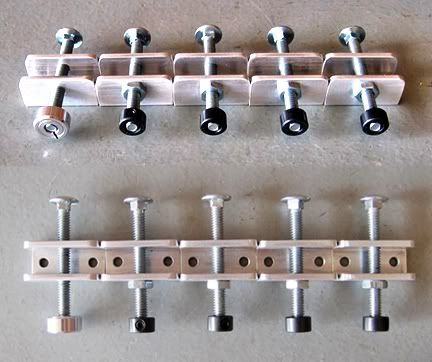 Actually, I already have a 4-pc DIY FULL METAL MICRO REGISTRATION SYSTEM.