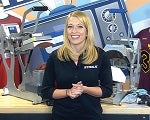 Stahls' TV Offers 'Seven New Ideas For Your Team Business' Video
A video of a recent live Stahls' TV webinar presents seven out-of-the-ordinary ideas for growing your team business. Geared toward expanding sales to existing customers and helping newcomers gain a foothold, the class explores seven opportunities for making the most of the team market.
You'll learn how to reap the potential in products from outerwear and fan gear to totes and sports balls. And you'll also get the scoop on making money in spiritwear fundraising programs, on-demand printing for sports events and customized tailgating offerings from bags to pop-up tents.
The video further includes demonstrations of how to print such high-margin items as garments made of heat-sensitive performance fabrics and caps with multiple graphic placements. It even shows how to print a 44-inch wide piece of art on a pop-up tent using a 16-inch by 20-inch press. You'll get a full rundown on materials, tools and techniques for driving up the value and price point, as well as sales, to maximize your team work.
Watch "7 New Ideas for Your Team Business" at
https://www.stahlstv.com/7-new-ideas-for-your-team-business
.
Stahls', a GroupeSTAHL company, is a world leader specializing in the development, manufacturing, and distribution of heat printing technologies. Stahls' provides customers with the most cost effective and efficient ways to decorate garments. Stahls' is located in Sterling Heights, MI, with GroupeSTAHL operations located throughout North and South America, Europe, Asia, and Australia. For more information, go to stahls.com, call 800.4.STAHLS, or email
[email protected]