Discussion Starter
·
#1
·
Where do I find t-shirts that are within these dimensions?
Age: 20
Height: 6'1"
Weight: 160 lbs
I have long arms, and my body fits into a large t-shirt perfectly, but the sleeves on the t-shirt are simply too short. Now, by too short, I mean I'm not big into the whole muscle t-shirt length sleeves. Rather, I like my sleeves to fall to about the following length: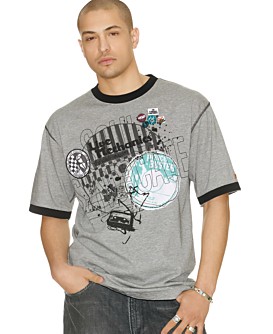 Sizing up from a large to and extra large normally has done the trick for me, but I really do hate having to give up that nice fit in the body to get decent length arms. But I'm discouraged lately, because now even the XL shirts are too short in the sleeves, so I have a bunchy baggy fit in the chest/body area, and crappy uncomfortable sleeves. I'm loosing on all faces here. Also, I guess I can get by with plain t-shirts if they have good sleeves and a nice fit, but it would also be nice to have some sort of design or comedic phrase, or color variation ( like a ringer tee, or a baseball tee), or something to kinda give it an extra zing. The last thing I mentioned (design) isn't really necessary, but it would be nice to have. There are some brands that seem to fit me well (Sean John, and Girbaud, for example), but at a hefty price-- their name plastered all over the damn shirt. I'm brand blind, so I don't care what brand you suggest, as long as it helps me.
Thanks for reading all this (if you made it through).. it would be nice to get some help on this.