Discussion Starter
·
#1
·
$6,000 OBO
Excellent condition and rungs great. Cirrently running films for freelance clients. Looking to get out if the film side of the business.
Oyo Techstyler 14" Thermal Imagesetter
User Manual
RIP WIN: RTI RO-1131-WI
Custom Metal Table w/Casters
Excellent Condition.
Uses 200ft rolls of Thermal Film (no inks). Next best thing to Direct to Screen. Prints fast with top notch halftone screening. Excellent Halftones, super dark = better exposure.
This sales comes with a 2nd Techstyler as a parts machine. Thermal head streaking on the parts machine.
Located in Jacksonville, FL 32259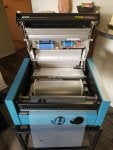 Message here or direct @
[email protected]